Garage Door Springs
Back To Our Services
Importance of Garage Door Spring Maintenance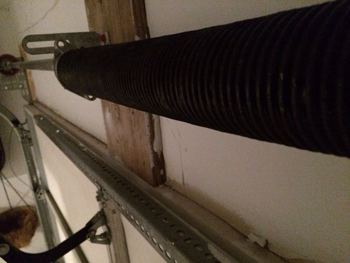 A broken garage door spring is quite normal if your springs have aged, though the less you maintain them the more likely they are to need a replacement. A visual as well as a physical inspection is a must when it comes to springs. It's vital that you especially keep an eye on these important parts, to look out for any damage or even a breakage. Things like rust, a broken safety cable, gaps between your spring's coils, or other overall garage door issues may be signs you need to repair or even replace the springs. As you can see, a simple visual inspection of your springs could give you all you need to know about the safety and workability of your garage door and whether or not service is needed.
Get Your Springs Serviced on Time
Because garage door springs play the important role of providing force and counterbalance for your door, it only makes sense to keep with your spring's maintenance. Are your springs looking different, or is your garage acting up? If, for example, the door is moving too fast or too slow, this is a good indication that your springs are not in working order and need to be further looked at. It is highly not recommended trying to handle the springs if you lack the proper knowledge and experience, let alone the right parts and tools. At that point, it's best to give us a call for spring repair, and we'll have a technician come out as soon as possible to get your springs adjusted or replaced accordingly in the safest possible manner.