Garage Door Repair
Back To Our Services
Garage Door Panel Replacement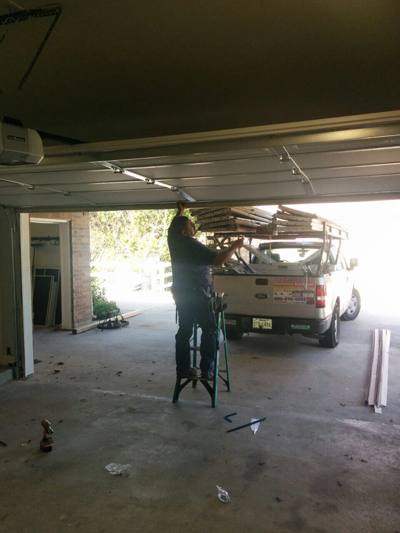 A garage door panel replacement is necessary when one or more panels on the garage door require replacement. This usually requires that the garage door is taken down from hits tracks and springs. Garage doors are usually made of multiple panels. This allows the door to "bend" while being raised or lowered from the ceiling. The damage to door panels can be from dents or breakage depending on the panel material. The broken door panels are not only unsightly but can also cause damage to the rest of the garage door. A damaged door panel can cause the door to warp, or twist. This in turn can cause the door to rise or lower unevenly, causing further damage to the tracks and the springs.
Replacing the garage door panel can be straightforward. However, it would most probably require that the door be lowered from its supports before the panel could be taken off and replaced. After the door panel has been replaced, and the garage door has been set back in its support, it's necessary to check the balance of the door.
We can do any garage door repair, installation and maintenance requirements you need. We do all repair requirements on all kinds and types of garage doors. Those who cannot do repairs shouldn't offer garage door services. Authentic and quality garage door repair companies should be able to do all garage door requirements like us. Repairs, installation and maintenance should be included in their portfolio. We also carry trusted brands of garage doors. We sell parts, spares and technology for these trusted brands. We always make our service vans carry stocks to be able to do replacements when they respond to phone in requests. We do not believe in making your garage door repair wait for replacements to be purchased.
Most of garage doors problems are on tracks and cables
Due to wear and tear when you open and close garage doors cables and tracks bend and break. Cables also snapped and garage doors go off track. We will be able to give you the most standard cables and tracks repair, maintenance and replacements.
More kinds of garage door repairs our Garage Door Repair company does are the following:
* Garage door bent tracks
* Garage doors off track
* Garage doors snapped cables
* Garage doors adjustment
Springs broke and bend also. We do this kind of repair seriously. Broken springs replacement or new garage doors spring installation. We do not recommend you doing the spring replacements they need to be done by professionals. There 2 kinds of spring mostly used on garage doors. The torsion and the extensions springs call us if you have problems with your garage doors springs and we will promptly respond to phone in request. Anytime to keep you all at home or in your place of business safe you call and we'll be there for you.
Door openers most often are the ones which broke during times inconvenient. Garage door openers has many types and kinds; electric remote controlled are the often most complex. It can be opened with a remote control device or a touch pad near the garage door. We can understand all kinds and types of branded electric garage door opener. We troubleshoot and repair electric garage door openers in one day. The minute we arrived to respond to your request rest assured we are going to repair immediately the problem is diagnosed. All our garage door technicians at Garage Door Repair Sun City can troubleshoot and repair because we submit them to train under the strict standards of the trusted brands that we carry. These brands require all garage doors technician to train and are certified to do service on their garage doors.
We can service many kinds and types of garage door repairs and much more like:
* Bottom Seal Repair
* Garage Door Brackets
* Broken Garage Door Hinge
* Bottom Garage Door Rubber Repair
* Broken Garage Door Glass
* Garage Door Panel Replacements and repair